After the Storm…
Hurricane Michael was the one of the strongest storms to hit the contiguous United States when it made landfall on Florida's Panama City Beach on October 10, 2018.
The destruction was unprecedented—at least 60 lives lost between the United States and Central America; tens of billions of dollars' worth of damage and extensive power outages throughout the Florida Panhandle.
Many employees here at Health Insurance Innovations were left wondering what we could do to help those whose lives had been affected by this massive storm. As Floridians, many of us know what it's like to be in the path of a hurricane. Watching the news as the threat of 100+ MPH winds move slowly to the place you call home is an all-too-real one when you live here in the Sunshine State.
An email was sent asking for much-need supplies or cash donations if anyone could spare them. And, seemingly overnight, the help started pouring in from employees of our home office here in Tampa, all the way to those working as far away as Mountain View, California. Our conference room began to fill with everything from palates of water to canned goods for residents of the Florida Panhandle.
Gerod Vernon, VP of Sales at HIIQ, had planned to drive the supplies up with the help of a tractor trailer and his pickup truck but, obtaining the proper permits to drive in such dangerous conditions was virtually impossible. Not one to give up easily, Vernon came across a post on Facebook that changed all of this.
"Through the power of Facebook, a couple of friends, and a buddy who helped us find someone to come down to Tampa with an 18-wheeler, we were able to get it done," said Vernon.
Those couple of friends included Joann and David Abraham as well as Clyde Snodgrass, who happened to know a mutual acquaintance who drove a semi-truck and was willing to come down to Tampa and back from Panama City. In fact, everyone mentioned so far grew up in Panama City before relocating to Tampa, so this was an issue that was very close to home.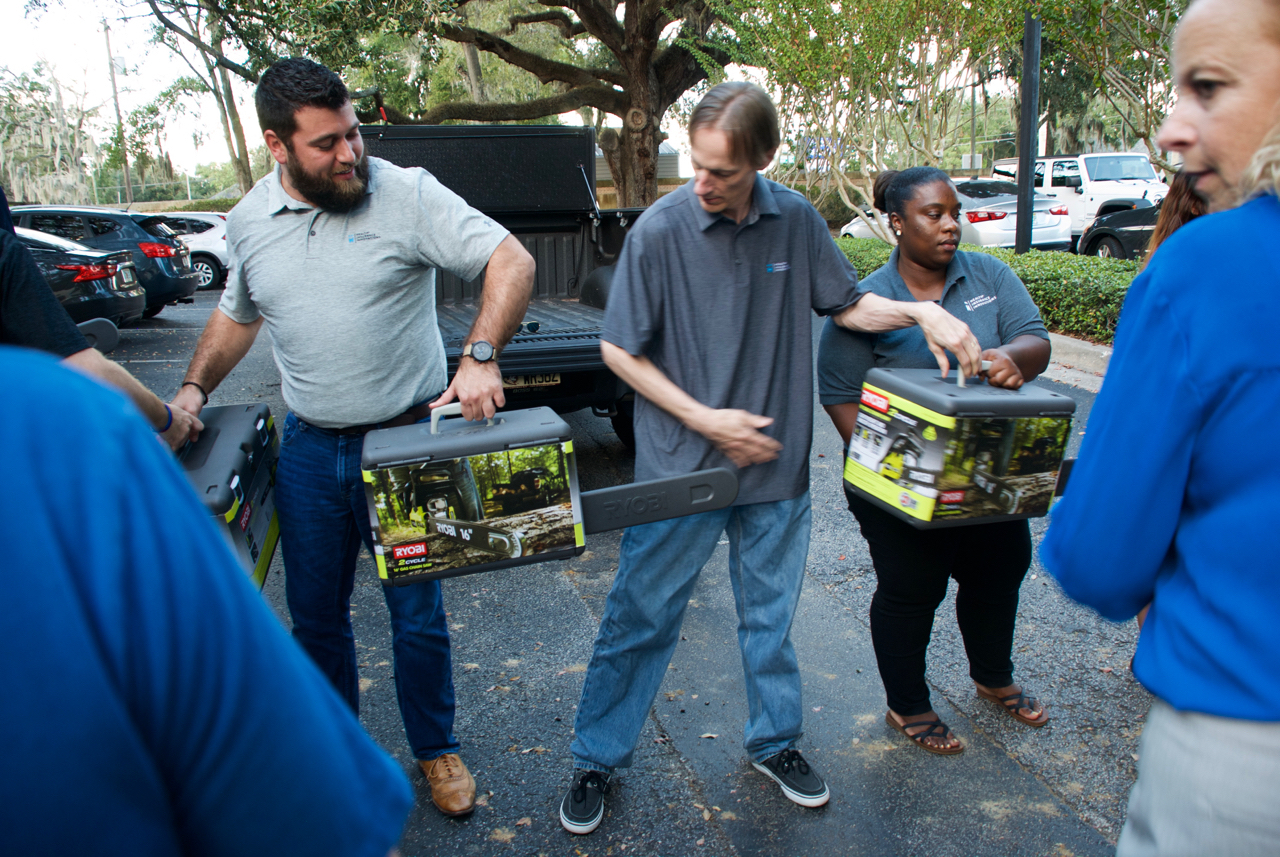 "I heard firsthand how bad the devastation was after friends and family started getting cell phone service when they drove out of town to do so," Said Snodgrass. "My parents always raised my brother and sister and I to help when necessary. They would say, 'Having a bad day? go do something nice for a random stranger'. So, I did."
Once Vernon heard the news, it wasn't long before Health Insurance Innovations was onboard. Their Tampa office soon became the drop-off point for donations that would eventually go up to Panama City in the semi-truck Snodgrass had arranged. Along with CEO Gavin Southwell, HIIQ employees donated much-need supplies including generators, chainsaws, bottled water, pet food, baby supplies and more. Other Tampa Bay area businesses like Keller Williams and Berkshire Hathaway even chipped in to help with supplies that would help the hurricane victims in Panama City.
Riding through the hurricane-ravaged city in an 18-wheel truck was no easy task. The trip itself and time spent dispersing the donations in Panama City took 10 days, and that was the first of multiple trips.
"The look on people's faces when we handed them a generator or chainsaw was worth all the stress," said Snodgrass.
Major recovery efforts are still ongoing in the Florida Panhandle. If you'd like to help those affected by Hurricane Michael, head over to Charity Navigator for a list of great causes you can give to today.